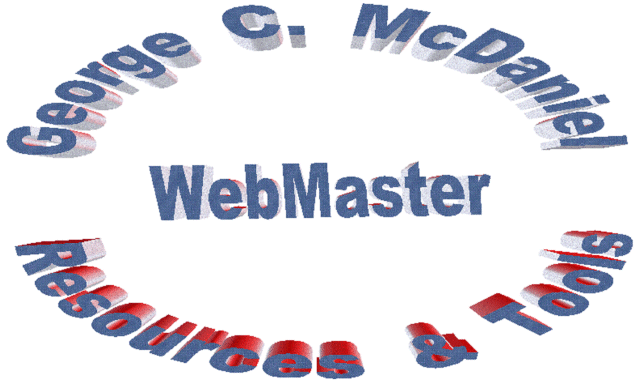 George C. McDaniel - Webmaster Resources Homepage
---
Welcome to my HomePage! Here are some Webmaster resources and tools that I have found or have been told about by my visitors. So check back here often to see the latest updates, or if you have some to add to my list, contact me and I will see about adding them!
Thanks for visiting!

You have visited these pages times.
---
Recommended Sites
Miscellaneous articles about the internet, email, web traffic, website design, website promotion and some on ezines.
Take a look!
Did you find what you were looking for?
If not, try here:
Interesting facts (confirmed by Hooked on Facts)
<!-a target=_new href="http://www.webmasterbids.com/"> <!- WebMasterBids.com - Webmasters Auction Place
Find broken links on your entire site here ! Not just a single page!
Building A Mailing List Is SO Easy
You heard me right.
Building a mailing list is SO easy to do.
Assuming, of course, that you know HOW it's done.
If you don't happen to know HOW to build a mailing list fast and easy --
you're in for one terrific surprise.
Click Here!
---
---
<!-IFRAME allowTransparency="true" src="http://www.ezlistz.com/ezlistz3.asp?acctid=692" width="250" height="75" frameborder="0" marginwidth="0" marginheight="0" scrolling="no">
---
---

---
---
Anti Spam
Last Modified: by George C. McDaniel - WebMaster - Click here to contact me.